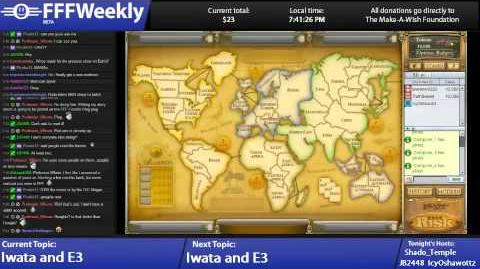 FFFWeekly is a gaming talk show hosted by members of the FFF Community. FFFWeekly is broadcasted Tuesday nights from 6:30-8:30PM Eastern Time on the FFF Twitch Channel. The first hour of the show is dedicated to gaming news and a single-player game, while the second hour finishes any left over gaming news and community news while sometimes playing a multi-player game such as Minecraft. FFFWeekly was created by the Stream Management Team.
Beginnings
Edit
FFFWeekly started as a very basic idea; the Stream Management Team was brainstorming ideas for new shows to go on the Fun For Freedom Twitch Channel. The Stream Management Team had the idea of a gaming talk show where there would be three hosts to duscuss gaming and community news topics while playing a game over the conversation while raising money for the FFF Monthly Charity. At this point in time FFFWeekly was called "The Show". The Show was originally going to have a three hour runtime and be hosted on Saturday nights from 6:30-9:30PM Eastern Time to flood people into MCGamer's The Temporary Podcast. The Show's timeslot was scrapped as some members of the streaming team thought three hours would be too long for a news show. Applications were then passed out and selected people would be future hosts of the show.
The Hosts are as follows: (Note: All members of the Stream Management Team can be hosts of the show if needed)
AWildAbra
IcyOshawottz
SoaringChris137
Shado_Temple
Pyscomedian
Piraka12
JB2448
Ad blocker interference detected!
Wikia is a free-to-use site that makes money from advertising. We have a modified experience for viewers using ad blockers

Wikia is not accessible if you've made further modifications. Remove the custom ad blocker rule(s) and the page will load as expected.